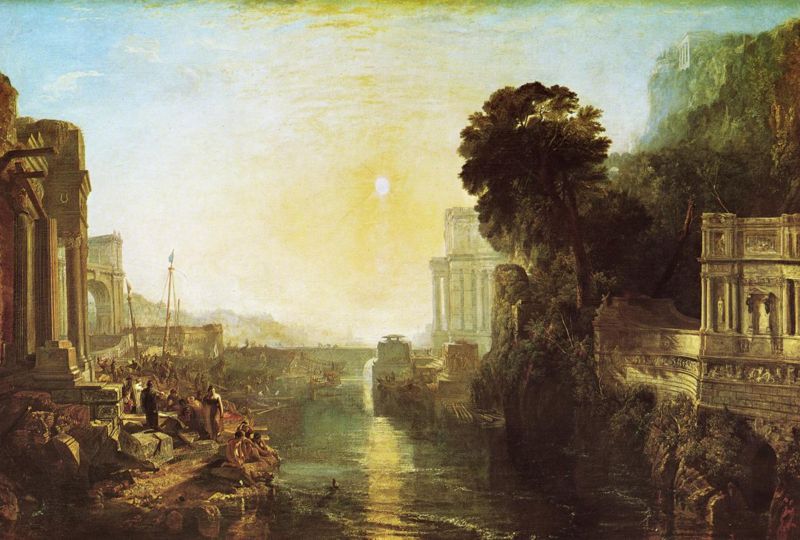 I am supposed to record Antonia's picture narration of Turner's Dido Building Carthage:
"On the side of the picture there are some people that look like they are going to bathe or they might be washing their clothes.  And it looks like the sun is setting and some of the light is reflecting off the river.  There's a line of white water but all of it is in shade after that.  There is mostly shade because of the arches and the tree.  You can see that the tree is on a mountain and on the top of the mountain, there's a little arch.  I found it very refreshing to look at.  On the left side of the picture, I can see a flag next to an arch.  The building on the right side is next to the sun."
She seems to be building up a descriptive style.  The one thing that really inspired her today was writing a review of CS Lewis' Voyage of the Dawn Treader which we have just finished:
The Dawn Treader

The Dawn Treader is an interesting book.  There are three characters called Edmund, Lucy and Eustace.  They are very, very brave.  And they are king and queen except Eustace who got turned into a dragon and he could not talk.  The Dawn Treader had a mouse with them.  The mouse talked his head off, but he was very nice and adorable.
This comes with an ancient ship illustration, one of her current specialities, and a date in which all the numbers have arms, legs and faces to the point where you can't tell what they say.
Yesterday, she wrote this little story, so I guess I can also cross off that 'composes on a model' entry in the grade 2 checklist!  I think we must have a couple of picture books that follow this theme:
In a very dark wood, there's a very dark house.
In the very dark house there is a very dark mouse,
And that mouse had a very small house.
Yesterday, we spent a beautiful afternoon at the Cirque de St Meme, a place up in the mountains, that's picturesque enough to be terribly crowded except on a school day.  We took a little hike, a picnic gouter, paddled and sunbathed.  I am usually good at estimating the time from the daylight, but this time the air and light were so pristine that I was a whole hour out of my reckoning and we got home pretty late.
I am glad for the nice things in our homeschooling just now, because we seem to be having the extreme ups and downs at the moment.  I would prefer not to talk about maths (other than multiplication tables) or French writing! Maybe later, I will talk about Just So Stories.  I am really amazed at how much Antonia loves reading those.